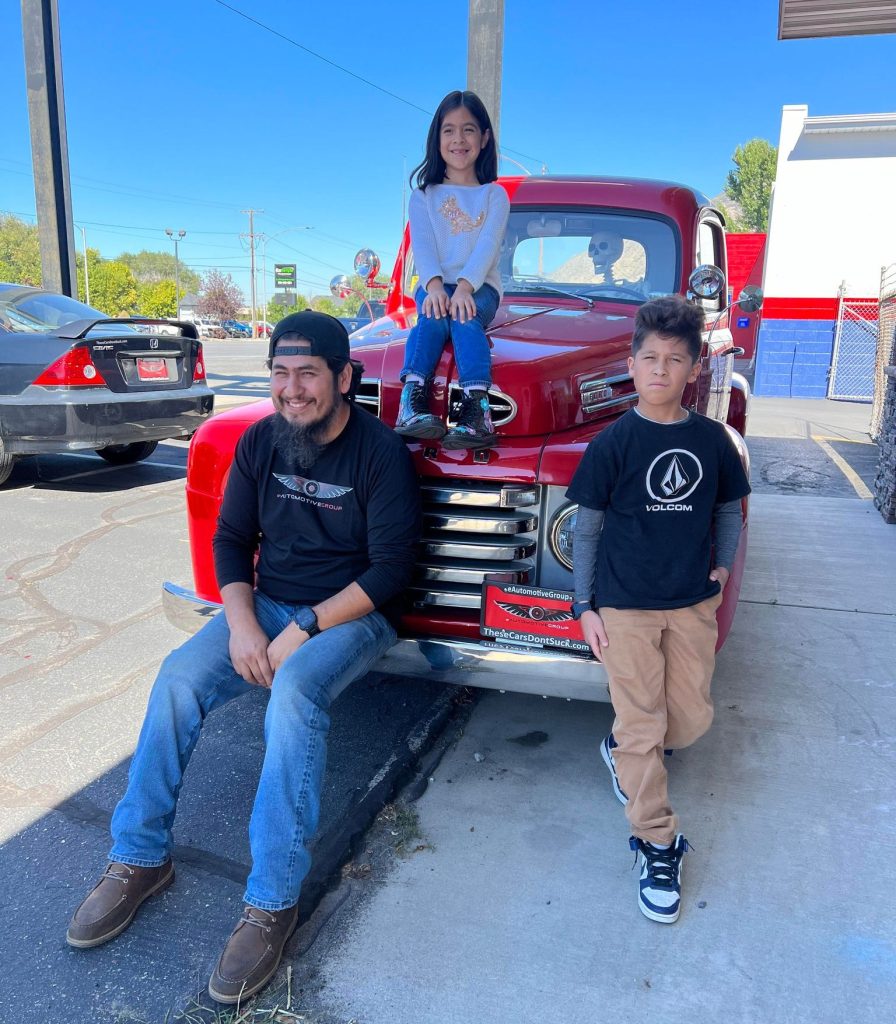 Edgar
Owner/Operator
Saying Edgar has a passion for cars in an understatement, cars run through his blood. Growing up with a car-nut dad who was also an entrepreneur to his core, running a used car store was a no brainer. He ventured into the car sales business with a good friend and mentor. Watching this business and team grow, he took a leap of faith and opened his own lot. Through blood sweat and tears he has watched his dream become a reality. A key to his success has been being selective in picking his team. Just like every vehicle on the lot has been carefully selected, so has every member of this team.
He has been building a team of superstars who are focused on providing the best car buying experience in our category of the market. Edgar puts his heart and soul into each of his cars, teammates, and customers. Everyone who comes into the lot becomes family.
First car- 1984 Ford Mustang Convertible. Gorgeous car when looking at it at night and at least 100 yards away. No heat meant he had to drive to school sticking his head out the window in the mornings and leaked so much oil that he always had a full supply in his trunk.
Hobbies-Grill Master Extraordinaire, motorcycles, old German cars, learning, always looking to get into new adventures.
Favorite holiday- Thanksgiving and Christmas should really be just one long wonderful holiday.
---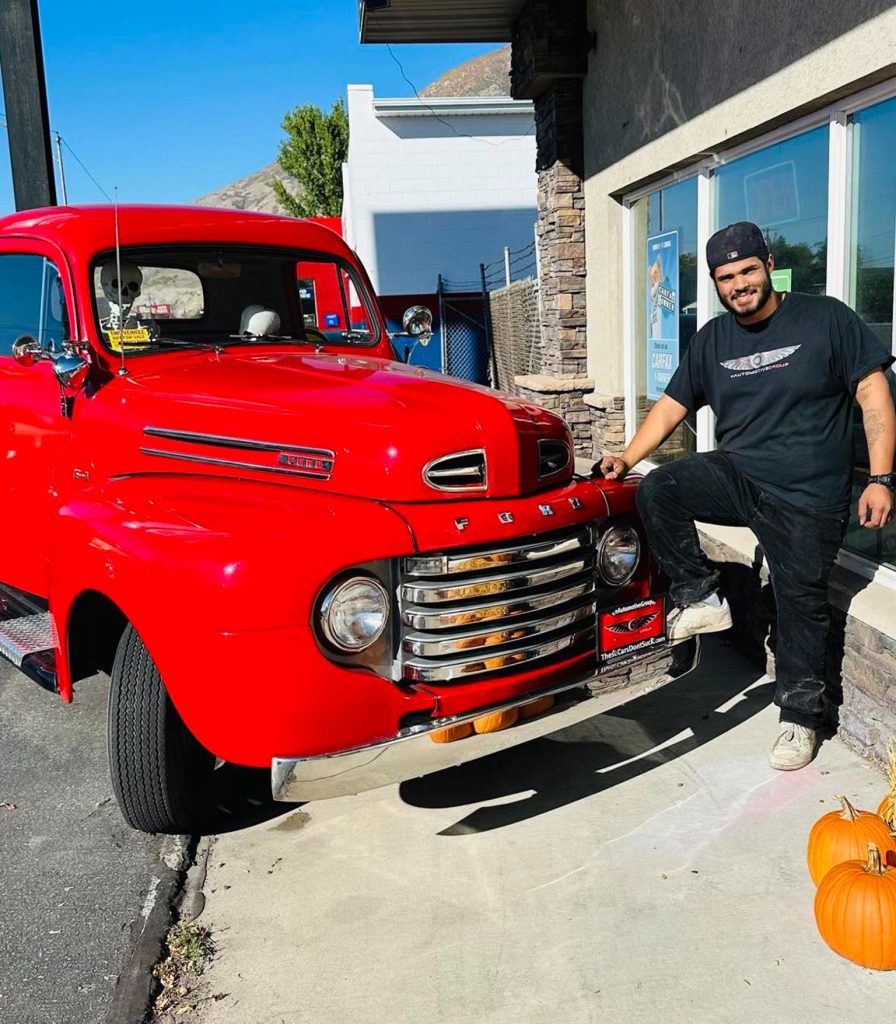 Cristhian Frontado
Inventory and Service Manager
Cristhian started with us as a sales person, but he wasn't very good at it so we moved him to service, j/k. Being in sales helped him see first hand what customers needed from our vehicles, add to that his great work ethic and attention to detail, and he was a natural fit to watch over these cars and they flow through our prep process. Cristhian is a caring husband and loving father to 1.5 beautiful kids (second one is expected to come for Christmas!).
First car- 2016 Subaru Impreza (manual transmission). It lost its life to a distracted driver, totaling it out.
Hobbies- Hunting, fishing and collects guns. He's also an avid smoker….of ribs, briskets and just about anything he can throw in his Traeger.
Favorite holiday- Thanksgiving, but only because of the food. Family time is nice too.
---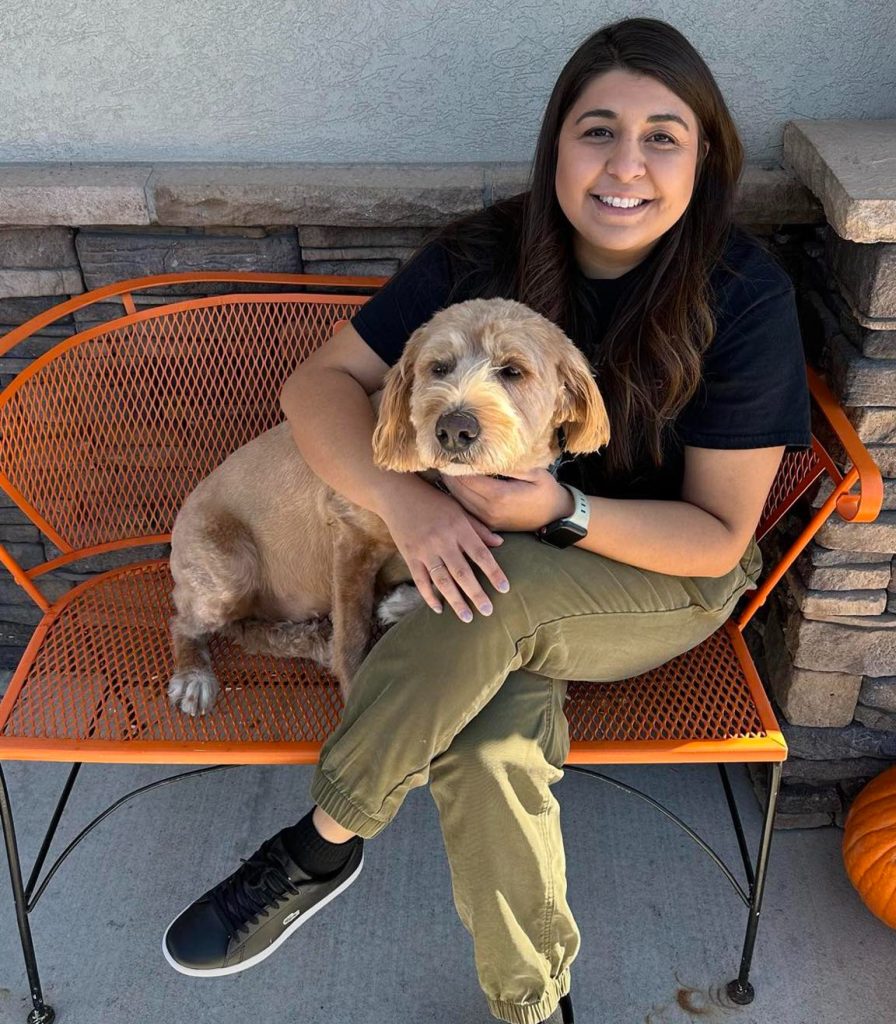 Elly Ovalle
Office Manager and Accounting
Elly used to work at a different car store, so when it was time to expand our team and add an office manager, she was the perfect choice. The fact that she and Edgar are cousins gave us that extra pull to poach her from the other guys. She helps keep all of us guys in line and makes sure we always get a receipt. She is also the dog mom to our office dog Brinn!
She now takes care of the bulk of Title and DMV work for eAutomotive. IF you ever have a special request or need help with registration work, she is the person you want to talk to. She is a very valued member of the eAutomotive team and we could not imagine life without her.
First car- 2001 Saturn S-Series sedan. She can't remember what year it was but does remember it was a manual transmission and she had to teach herself how to drive it. She loved that it had a shift-up light which that was a lot of help in teaching her how/when to shift gears. She no longer has the Saturn but does know it is still chugging along and being driven by one of her cousins.
Hobbies – Hiking, Reading, Traveling, People Watching, Enjoying Nature, Spending time with Brinn and anything Texas related.
Favorite holiday- Christmas. The family time and seeing the kids open their presents is nice and everything, but Mexican holiday food is on a different level
---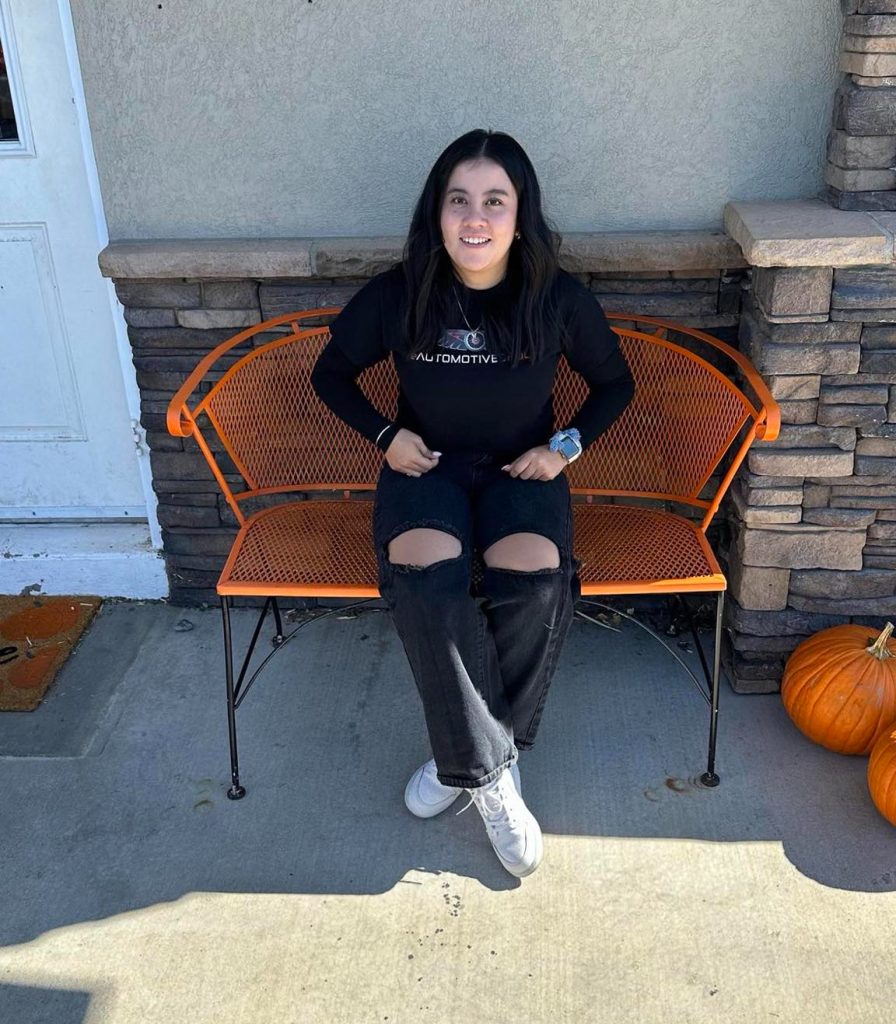 Manu Hurtado
Admin Assistant/Marketing
Manu started as a part-time office assistant. Turns out she's in school for marketing and journalism, so she gets to experiment what she's learning in the classroom with us! Loves Mexican food, yoga and Pilates. When she's not helping run our office, Manu stays busy with one of her other gigs.
First car-2019 Mazda CX-5. The nicest first car out of all of us. She didn't want to deal with all the nonsense of an older car, so she waited till 18 to be able to afford a much newer car with low miles, so she didn't have to deal with repairs, etc.
Hobbies- Loves traveling and discovering new places, and shopping for clothes.
Favorite Holiday- Christmas. Nothing better than getting gifts, right?!
---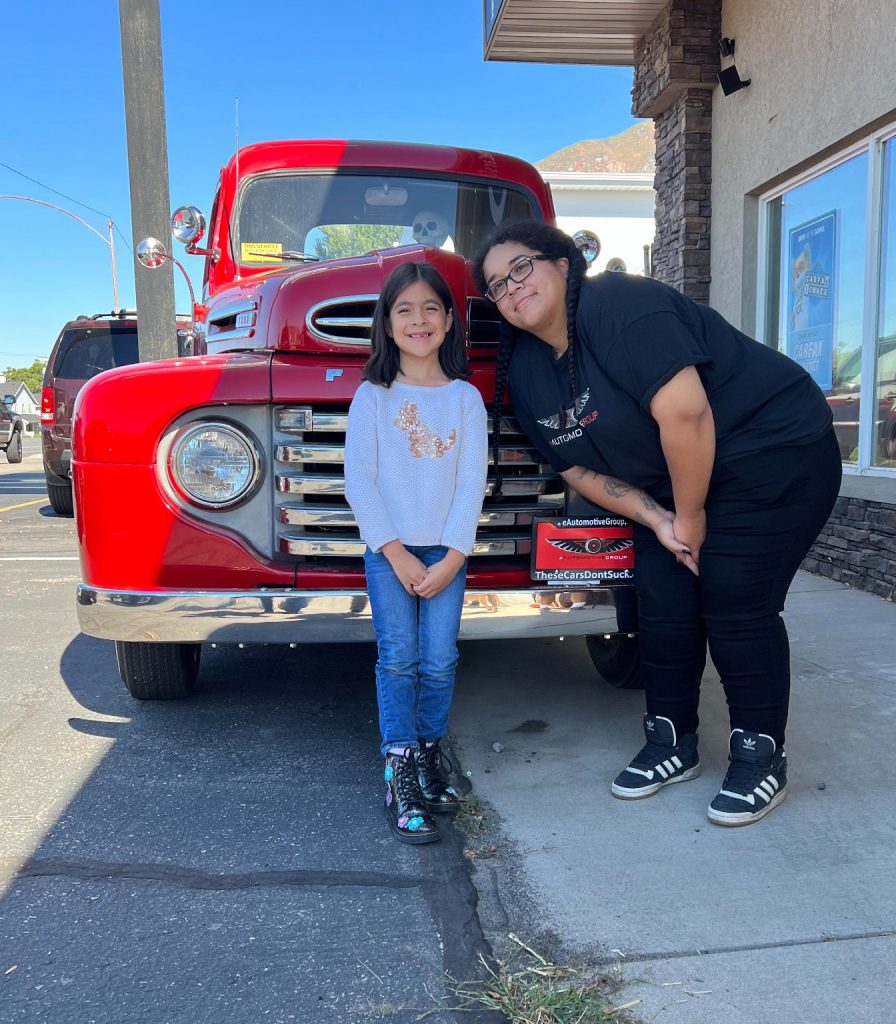 Samantha Acosta
Sales
We actually stole Sam from a neighboring dealer. She grew up just down the street in Spanish Fork. Hates bugs, loves kids and all pets, unless they're bugs. Samantha is the face of our company and most likely who you will be dealing with. Super friendly, but not in the salesmany way.
Favorite movie is Chucky. Cat name Bagheera. Fears bugs. OCD tendencies.
First car-1999 Saab 9-3. She loved this car until she found out how expensive it was to maintain and repair. She currently drives a Hyundai, like a sensible person would.
Hobbies- Going to the gas station for snacks. Cleaning. Spending time with the fam.
Favorite holiday- Halloween. Lots of childhood memories, all the scary stuff, all the candy. What's not to love?
---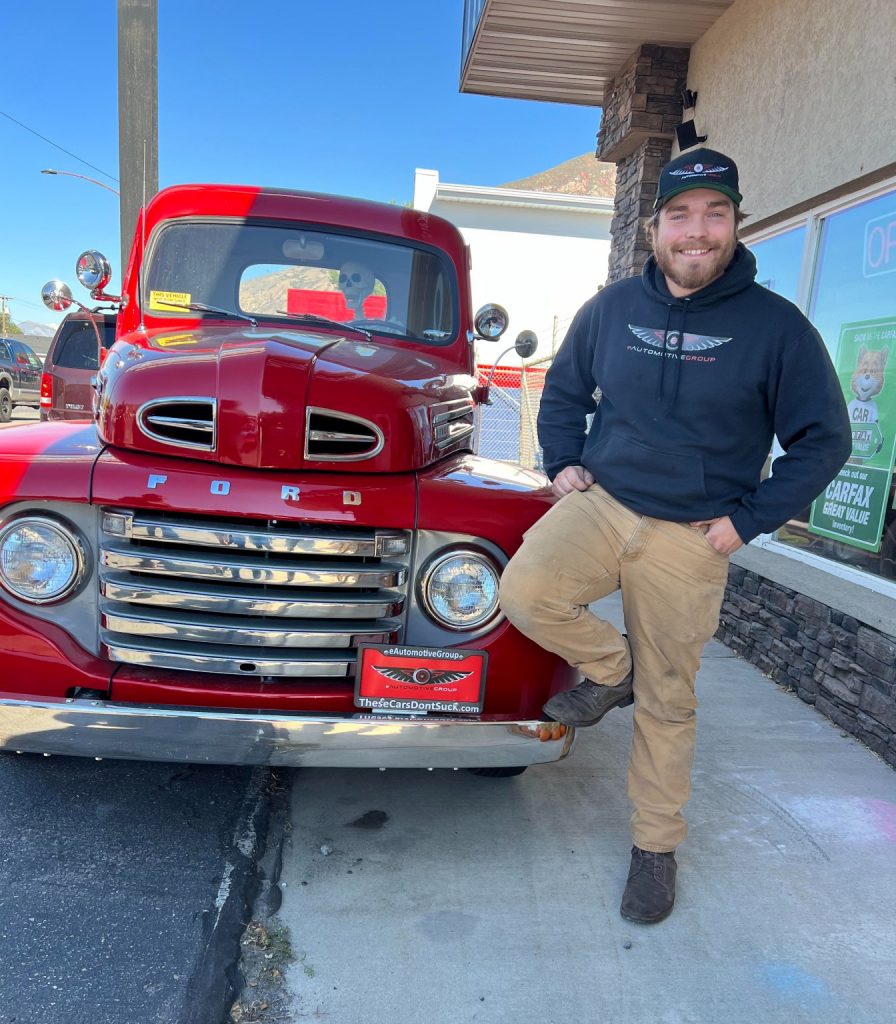 "El Cody" Creighton
Lot Tech/Our Everything Guy
We stole Cody from the AutoZone down the street.
We kept thinking "it'd be nice to have a guy like that on our team". Turns out, he kept thinking "it'd really cool to work there". Match made in used-car heaven. Cody is one of those guys that either knows everything about cars or knows a guy that knows about it.
First car-1972 Chevy C20 which he still owns. It has been the most reliable vehicle he's owned, even though it wont go into park anymore, just have to rely on the e-brake
Hobbies- Loves fishing, hunting, camping and anything outdoors.
Favorite Holiday- Thanksgiving. It's the time of year where all his family from outside the state get together to celebrate and be thankful.
---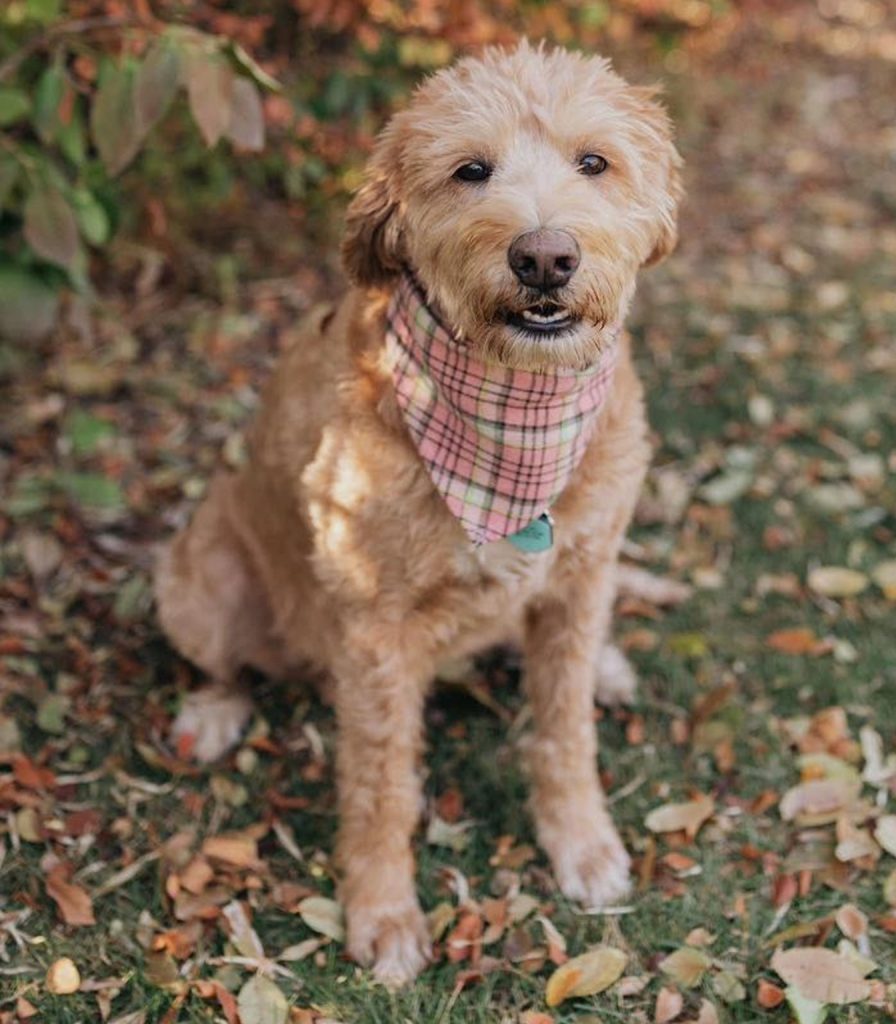 Brinn Ovalle
Office Dog and Greeter
One of the reasons we hired Elly is because she showed up with Brinn to the interview. While she is not always in the office, we are always happy to see her when she makes it in to work. She is 7 years old, so a lot of her day consists of chilling on our couch or at her mom's feet under her desk. She probably gives out the most handshakes of anyone at eAutomotive.
First car- None yet, thankfully. However, her first car ride was in a 2011 Nissan Juke, when she came home with Elly.
Hobbies – Rolling in freshly mowed grass, napping on her Purple bed, playing fetch and hunting for treats. Dental treats are her favorite and hates fireworks.
OUTRO- As you can see, we're all just a bunch of car nuts. Still playing with cars, making a living out of it, and having as much fun at it as (responsibly) possible.
---
As you can see, we're all just a bunch of car nuts.
Still playing with cars, making a living out of it, and having as much fun
at it as (responsibly) possible.